"Auslan is our passion and our goal is to provide everyone with the opportunity to learn Auslan"
Learn Auslan Online is proud to present this amazing and unique Auslan Level 2 (intermediate) online course. With 22 videos, 600+ signs, and 150 set sentences for you practice with there is simply NOTHING else like this in Australia.
The course is 100% online and as the videos are all prerecorded you can work through the course at times that are convenient to you. As was the case with level 1, level 2 also has a lifetime of access. There are no restrictions on how many times you can replay a video nor is there a time limit on you having to complete the course.
The online course aims to be fun, to create opportunities for people to further develop their Auslan skills, or to renew and update their Auslan. You will learn in depth information about Auslan grammar and the importance of space and description in Auslan.
At the end of the course there is two part assessment for us assess your receptive (understanding what is being signed) and expressive (signing yourself) Auslan skills before we can provide you with your level 2 certificate.
This course is not recognised as a nationally accredited Auslan course.
There is a comment section after each lecture where you can ask myself or the school community questions about signs or information you are unsure about.
Brent and Raquel are your teachers in this course. Both are deaf and non-verbal and they have a qualified Auslan Interpreter providing the voice over. All of their signing is natural Auslan to them. There was no script to limit them.
I hope you enjoy learning Auslan in this online course and thank you for your interest in Auslan and the Deaf community.
Please be aware that even though we are an Australian company, Learn Auslan Online is hosted by an American teaching platform. This means that, depending on your bank, paying by credit card may mean that you incur a foreign transaction fee of 2-4%.
**If you're having trouble with checkout please email [email protected]**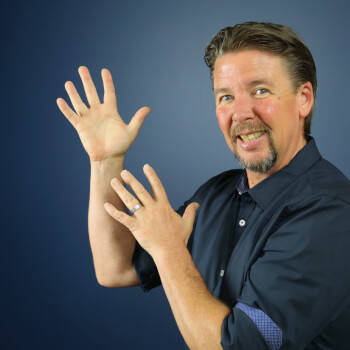 I established Learn Auslan Online in May 2020 and as of 2021 I have been teaching Auslan professionally for 18 years. I am passionate about teaching Auslan and l hope you become passionate about learning Auslan as well
Since its launch Learn Auslan Online have received enrolments from a wide array of people including: emergency services staff, hospital staff, primary school teachers, childcare educators, university students, families with deaf children, workplaces with deaf colleagues or customers and people just wanting to learn Auslan for fun and to learn a new skill.
Auslan is great fun to learn and l hope you share the language with your family and friends too.
'My Daddy is Deaf' book 
My Daddy is Deaf is story from the perspective of a child of what it's like to have a deaf Dad. His ears may not work and he uses flashing lights around the house to tell him things (like when he's burning the food!) but he is the same caring, funny, and loveable Dad with hobbies and interests just like others. 
This book is perfect for families, childcare centres and primary schools as an insight into being Deaf.
You can order a copy of the book by emailing Darren at:
It is $30 including postage.